Skip to content
Skip to navigation menu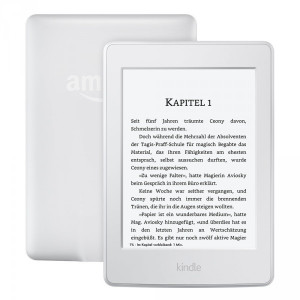 Amazon Kindle Paperwhite WiFi 4 GB E-Book Reader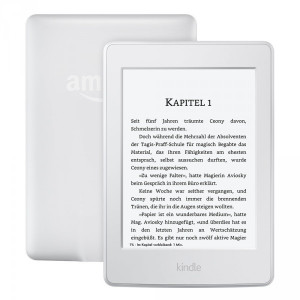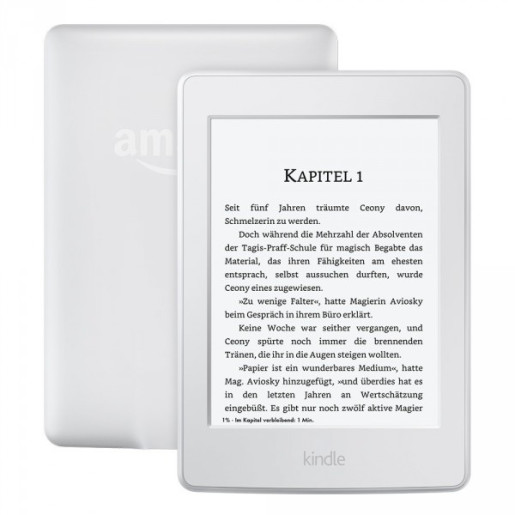 Amazon Kindle Paperwhite WiFi 4 GB E-Book Reader
Please log in or
create an account
with Exertis to buy or see full details of our product
Unsurpassed resolution of any e-reader
Next-generation reading experience
No glare in bright sunlight
Won't tire your eyes in the dark
Unsurpassed resolution of any e-reader
NEW – With twice as many pixels as the previous generation, the all-new Kindle Paperwhite has an improved high-resolution 300 ppi display for crisp, print-quality text.

Next-generation reading experience
NEW – The all-new Kindle Paperwhite now offers Bookerly, an exclusive font crafted from the ground up for reading on digital screens. Warm and contemporary, Bookerly is inspired by the artistry of the best fonts in modern print books, but is hand-crafted for great readability at any font size.

No glare in bright sunlight
Unlike reflective tablet and smartphone screens, the latest Kindle Paperwhite reads like paper – no annoying glare, even in bright sunlight.

Won't tire your eyes in the dark
Kindle Paperwhite guides light towards the surface of the display with its built-in front light – so you can read comfortably without straining your eyes. Adjust your screen's brightness for great reading in any light.

Charge monthly, not daily
Kindle Paperwhite won't leave you tethered to a socket. A single charge can last up to six weeks (based on half an hour of reading per day with wireless off and the light setting at ten).

Read comfortably with one hand
Thinner than a pencil, lighter than a paperback. Hold Kindle Paperwhite comfortably in one hand for long reading sessions.

No distractions
Kindle Paperwhite is purposely designed as a dedicated E-reader. Indulge your love of reading without interruptions such as e-mail alerts or push notifications.

Sharp, dark text
Enjoy text that reads like the printed page. All fonts have been hand-tuned at the pixel level for maximum readability and comfort.

Skim through without losing your place
With Page Flip, you can skim page-by-page, scan by chapter, or skip to the end for a sneak peek without losing your place.

Take and share notes
Add margin notes that you can edit, delete or even export from your device to your computer. Share highlighted sections and meaningful quotes on Facebook and Twitter, and see passages frequently highlighted by other Kindle readers.

Read comfortably in one hand
Lighter than most paperback books, comfortably hold Kindle in one hand for long reading sessions.

Look it up instantly without leaving your page
Kindle Paperwhite's Smart Lookup feature integrates a full dictionary with X-Ray and Wikipedia so you can access definitions, characters, settings and more without leaving your page or losing your place.

Share your library with family
With Family Library, you and your family can access and easily share not only your own Kindle books, but also books from the linked Amazon account of a spouse or partner.

Read more challenging books
Word Wise makes it easier to enjoy and quickly understand more challenging books. Short and simple definitions appear above difficult words automatically, so you can continue reading with fewer interruptions. Tap on a word to bring up a simple card with definitions, synonyms and more. You can adjust the number of hints you see with a simple slider.

Expanded X-Ray for books
X-Ray lets you explore the "Bones of the Book." See all the passages across a book that mention relevant ideas, fictional characters, historical figures, places, or topics of interest. X-Ray's new timeline view lets you easily flip through notable passages to remind yourself of what's happened in the book, or navigate easily through images.

Enhance your vocabulary
Words looked up in the dictionary are added to Vocabulary Builder automatically to expand your knowledge and reinforce retention. Swipe through your vocabulary words, quiz yourself with flashcards, and instantly see those words in context.

Squeeze in that last chapter
See at a glance how long it will take to finish a chapter or book. Time to Read is personalised based on your reading speed and is constantly updated as your speed and habits change.

Adjust your text size
Choose from eight text sizes to prevent tired eyes and keep you reading longer.

Pick up where you left off
Whispersync technology synchronises your last page read, bookmarks and annotations across all your devices so you can pick up exactly where you left off reading.

Translate passages instantly
Tap any word or highlight a section to translate it instantly into other languages, including Spanish, Japanese and more. Translations are provided by Bing Translator.

Lowest book prices
We check prices every day to make sure our prices are the lowest of any e-book store in the UK. Compare our book prices - you'll like what you find.

Massive selection
Over three million books, newspapers and magazines, including latest bestsellers, Kindle exclusives and more.
Unsurpassed resolution of any e-reader
Next-generation reading experience
No glare in bright sunlight
Won't tire your eyes in the dark
Charge monthly, not daily
Read comfortably with one hand
Display diagonal
15.2 cm (6")
USB connector type
Micro-USB
Document formats supported
AZW,AZW3,DOC,DOCX,HTML,MOBI,PDF,PRC,TXT
Audio formats supported
Not supported
Image formats supported
BMP, GIF, JPG, PNG
Video formats supported
Not supported
Internal storage capacity
4 GB