Skip to content
Skip to navigation menu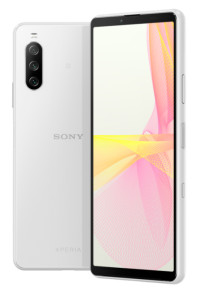 Sony Xperia 10 III, 15.2 cm (6"), 6 GB, 128 GB, 12 MP, Android 11, White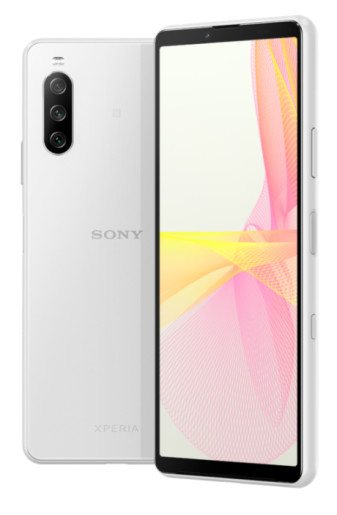 Sony Xperia 10 III, 15.2 cm (6"), 6 GB, 128 GB, 12 MP, Android 11, White
Please log in or
create an account
with Exertis to buy or see full details of our product
21:9 Wide 6" OLED display with HDR capability
Triple lens camera with ultra-wide-angle, wide-angle and telephoto
Powerful 4.500mAh battery with 3-year life
IP65/68 rating water resistance and dust protection
5G speed, long battery life, and a compact, durable design
Enjoy more of what you want on the go with the Xperia 10 III. It combines a powerful, long-life battery with the speed of 5G for fast streaming and downloads. And its premium, hand-fit design is not just comfortable to handle but tough and water-resistant too. So you'll have no worries about using Xperia 10 III whenever and wherever you like.

Sony's TV know-how in a beautiful smartphone display
We've drawn on our world-renowned TV expertise to create an exceptional viewing experience on the Xperia 10 III. With its cinematic aspect ratio, the 21:9 Wide 6" OLED display lets you lose yourself in all your favourite movies, TV shows and games.

Breathtaking colour and contrast
Featuring Sony's video image optimisation, the OLED display delivers incredibly rich, natural colours and deeper blacks. It's also capable of showing HDR content, which has a wider dynamic range than standard video formats, enhancing both contrast and colour. Bright parts of the image get brighter and the colour palette expands to show more bright blues, greens, reds, and everything in between.

Beautiful snapshots made easy with triple lens
Featuring ultra-wide-angle, wide-angle, and telephoto options, the triple lens camera lets you capture a huge variety of shots – from expansive landscapes to expressive portraits.

16mm Ultra-wide-angle
When you want to capture the scale and drama of your location, choose the 16mm Ultra-wide-angle.

27mm Wide-angle
A versatile option, 27mm wide-angle covers most everyday shooting situations.

54mm Telephoto
Ideal for portraits, the 54mm telephoto gets you closer to your subject.

AI optimised settings for a range of situations
The Xperia 10 III not only offers triple lens versatility but also has a range of easy-to-use photography features to help you get outstanding results every time.

Exceptional audio quality, wireless or wired
The Xperia 10 III offers exceptional sound, whether you're enjoying the ultimate in wireless listening with High-Resolution Audio Wireless or using the 3.5mm audio jack to connect your favourite wired headphones. Along with native High-Resolution Audio playback, the Xperia 10 III also features DSEE Ultimate, which uses AI to upscale all your music close to High-Resolution Audio quality.

Light-weight, hand-fit design
Even though the Xperia 10 III has a large 6" display, the phone measures only 68mm in width – so you can comfortably operate it with one hand. Weighing just 169g, it's light-weight and easy to handle too, whether you're taking a photo or playing a game.

Made for multi-tasking
On the Xperia 10 III, Sony's unique multi-window option on the 21:9 wide display has been enhanced with a new Pop-up window feature. Perfect for multi-tasking, it lets you overlay one window with another. So you can quickly handle a task such as replying to a message, then get right back to the game you're playing or the website you're browsing.

Tough, water-resistant design
Featuring IP65/68 water resistance and durable Corning® Gorilla® Glass 6, the Xperia 10 III is built to withstand everyday life.

Eye-catching style
The Xperia 10 III combines a premium look and feel with a choice of colours to suit your style.

Outstanding performance
The Qualcomm® Snapdragon™ 690 5G Mobile Platform can easily handle all your apps, movies, games and more, while the Qualcomm® Snapdragon™ X51 5G Modem-RF System combines high performance with power efficiency for superior connectivity

Discover the speed of 5G
A fast 5G connection opens up a world of possibilities, enabling you to enjoy uncompromised high-quality downloads and seamless streaming – even of high resolution files.

Smart connectivity
Smart connectivity takes Xperia's deep learning technology that utilises Sony's Neural Network Libraries and analyses Wi-Fi signals to predict near-future connectivity issues. The Xperia 10 III assesses the quality of available Wi-Fi before connecting so there's no more grabbing Wi-Fi that doesn't work. If it predicts any compromise in Wi-Fi connection quality, it uses your mobile data instead. With Xperia, you're always on the best connection available.

All-day power and fast charging
With a long-lasting 4.500mAh battery, the Xperia 10 III gives you all the power you need to enjoy your day. And with the 30W Fast Charger XQZ-UC1, you can quickly top up when you're running low on power.

A healthy battery, even after 3 years of use
Our charging technologies keep your battery healthy for longer. Battery care keeps your phone from overcharging, while Xperia Adaptive Charging monitors your phone as it charges, to make sure the battery isn't overworked.

The Xperia 10 III is Android Enterprise Recommended
Android™ is made for business, no matter what your business is. It's a powerful platform that's open to all. That means more Android devices to choose from, built for any job. More ways to create your own custom apps and Google™ innovation powering it all. Making more possible for your company.

Technical Reference
21:9 Wide 6" OLED display with HDR capability
Triple lens camera with ultra-wide-angle, wide-angle and telephoto
Powerful 4.500mAh battery with 3-year life
IP65/68 rating water resistance and dust protection
Hand-fit and light-weight for comfortable use
International Protection (IP) code
IPX5, IPX8
Protection features
Dust resistant, Water resistant
Display diagonal
15.2 cm (6")
Display resolution
2520 x 1080 pixels
Maximum refresh rate
60 Hz
Touchscreen type
Capacitive
High Dynamic Range (HDR) supported
Y
Display glass type
Gorilla Glass
Gorilla Glass version
Gorilla Glass 6
Wi-Fi standards
802.11a,802.11b,802.11g,Wi-Fi 4 (802.11n),Wi-Fi 5 (802.11ac)
Mobile network generation
5G
Near Field Communication (NFC)
Y
3G bands supported
850,1700,2100 MHz
SIM card capability
Hybrid Dual SIM
Processor family
Qualcomm Snapdragon
Operating system installed
Android 11
Virtual assistant
Google Assistant
App distribution platform
Google Play
Compatible memory cards
MicroSDXC
Internal storage capacity
128 GB
Maximum memory card size
1000 GB
Headphone connectivity
3.5 mm
USB connector type
USB Type-C
USB version
3.2 Gen 1 (3.1 Gen 1)
Battery capacity
4500 mAh
Front camera resolution (numeric)
8 MP
Rear camera resolution (numeric)
12 MP
Rear camera type
Triple camera
Video recording modes
720p,1080p,2160p
Second rear camera resolution (numeric)
8 MP
Front camera type
Single camera
Maximum frame rate
120 fps
Second rear camera field of view (FOV) angle
45°
Third rear camera resolution (numeric)
8 MP
Rear camera field of view (FOV) angle
75°
Front camera field of view (FOV) angle
78°
Rear camera sensor size
1/2.8"
Third rear camera field of view (FOV) angle
120°
Front camera sensor size
1/4"
Second rear camera sensor size
1/4"
Rear camera aperture number
1.8
Front camera aperture number
2
Second rear camera aperture number
2.4
Third rear camera aperture number
2.2
Short Message Service (SMS)
Y
Multimedia Messaging Service (MMS)
Y
Quasi-Zenith Satellite System (QZSS)
Y
Subscription type
No subscription
Commodity Classification Automated Tracking System (CCATS)
8517120000